By Gary Baines – 08/01/2019
Charlotte Hillary made a run at history this week at the Girls Junior Americas Cup in Murrieta, Calif.
The golfer from Cherry Hills Village was trying to become just the second Coloradan to win the individual title at the event which features some of the top female junior players from the western U.S., Canada and Mexico.
Hillary, who will play her college golf at Northwestern starting in 2020 after completing her senior year at Kent Denver, had a birdie putt to tie the leaders on her final hole of regulation on Thursday (No. 9). Alas, she three-putted for bogey to finish two behind and in third place out of the field of 72 players.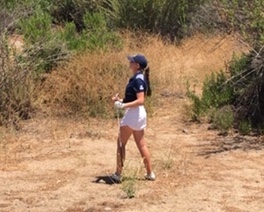 Nevertheless, that was the best individual showing by a Coloradan at the Girls Junior Americas Cup in at least a decade, before which records are sketchy. The last top-five performance by a Colorado resident was a fifth place by Calli Ringsby in 2013.
Jennifer Kern remains the lone Coloradan to capture an individual title at the GJAC, pulling off the feat in 1993. Dillon Stewart of Fort Collins earned the boys Junior America's Cup individual championship last year.
With Hillary setting the pace, the Coloradans finished seventh in the 18-team competition, marking their third straight top-seven showing in the GJAC.
The team representing the Junior Golf Alliance of Colorado posted its best score of the week, a 6-over-par 222, in Thursday's final round to check in at 28-over-par 676. The Coloradans finished 22 strokes behind co-champions Hawaii and Washington.
Hillary, who placed 29th in the national Girls Junior PGA Championship last month, shot an even-par 72 on Thursday to finish at 5-under-par 211. Only co-champions Cassie Kim of Washington and Lana Calibuso-Kwee of Hawaii were better, with 209 totals.
Hillary, a two time JGAC Tour Championship winner, made five birdies, three bogeys and a double bogey on Thursday. But the par-5s proved problematic during the final round as she played them in 4 over par, eight strokes higher than on Wednesday.
As for the other Coloradans: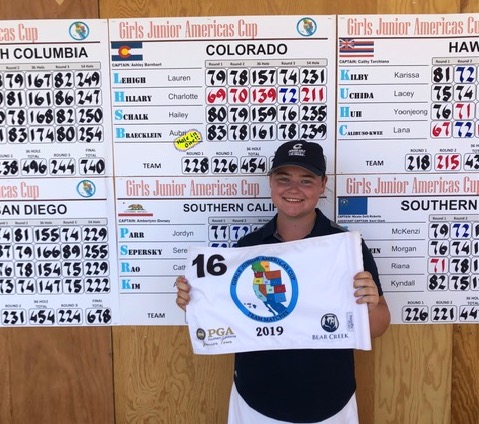 Lauren Lehigh of Loveland finished 31st individually at 231. Hailey Schalk of Erie was 38th at 235. And Aubri Braecklein of Northglenn was 49th at 239. (The Coloradans are pictured at top, from left: Braecklein, Lehigh, Schalk and Hillary.)
Braecklein had one of the highlights of Thursday's round as she made the third hole-in-one of her young lifetime on the 16th at Bear Creek Golf Club, using a 7-iron from 135 yards.
Girls Junior Americas Cup
At Par-72 Bear Creek GC in Murrieta, Calif.
7. (out of 18 teams) Colorado 228-226-222—676
3. Charlotte Hillary, Cherry Hills Village 69-70-72–211
31. Lauren Lehigh, Loveland 79-78-74–231
38. Hailey Schalk, Erie 80-79-76–235
49. Aubri Braecklein, Northglenn 83-78-78–239
For all the scores from the Girls Junior Americas Cup, CLICK HERE.
Also on the national stage for Colorado juniors:
— Stewart 69th Going Into Final Round of Boys Junior PGA: Dillon Stewart of Fort Collins shot a second straight 2-over-par 72 and dropped into a share of 69th place after Thursday's third round of the Boys Junior PGA Championship in Hartford, Conn.
The future Oklahoma State University golfer will take a 3-over-par 213 total into Friday's final round. On Thursday, the 2018 boys Junior America's Cup champion carded four birdies, three bogeys and a triple bogey.
Boys Junior PGA Championship
At Par-70 Keney Park GC in Hartford, Conn.
69. Dillon Stewart, Fort Collins 69-72-72–213
Missed 36-Hole Cut
TJ Shehee, Mead 71-72–143
For all the scores from the national Boys Junior PGA Championship, CLICK HERE.